October 15, 2019 at 10:31 pm
It is a common misconception that Obsessive Compulsive Disorder (OCD) means being neat, tidy, clean and organised. For those living with OCD, there's far more too it than that. OCD is a debilitating disorder which leads the sufferer living with intrusive thoughts rendering day-to-day life a living nightmare.
OCD Awareness Week runs annually during the second full week of October. That's this week! The aim of the Week is to educate the public about the realities of living with OCD and the challenge of having to face up to the realities of the condition on the path to recovery. Misunderstanding and stigma that can be caused by misrepresentation of OCD, particularly in the media, can be hugely damaging. OCD Awareness Week sets out to tackle this.
This Year's Campaign
The October campaign was originally started by the International OCD Foundation (a US-based charity) in 2009, and is supported by a number of OCD charities.
OCD Action are tying into the Week by running #3forOCD; where they ask people in the community to share their top 3 things that they wish people understood about OCD, using the hashtag #3forOCD. They are also supporting the Picture Your OCD project.
OCD UK are publishing a series of handouts designed specifically to educate the public on the reality of OCD as a mental health condition, designed to bust myths and misconceptions
the International OCD Foundation are inviting all members of the OCD and related disorders community to participate in #FaceYourFear, a social media campaign to educate the public about the realities of living with OCD and the challenge of having to face your fears on the path to recovery. Read more about the campaign and hashtag here. 
BIMHN's Work Around OCD
The Bristol Independent Mental Health Network (BIMHN) are working to support those living with OCD, and break down mental health stigma surrounding both the condition and mental health generally. Tracy, one of the trustees of the Independent Mental Health Network, our parent charity, is working to set up a local OCD Social Support Group. Following on from Lifting the Myth of Obsessive Compulsive Disorder (OCD), a very successful open discussion event that took place earlier this year, Tracy is looking to hold further meet-ups.
If you are interested in Tracy's work, or would like to attend the next OCD Support Group meeting (provisionally set for November), please feel free to email Tracy directly at tracy_tainton[@]yahoo.co.uk (taking out the brackets from the email address).
October 15, 2019 at 10:31 pm | Blog | No comment
October 10, 2019 at 6:02 pm
This blog was written by a member of BIMHN, sharing their thoughts on what how they've learnt to see mental health as a part of their identity. Content note; medication, depression, mental health treatment, recovery, relapse.
Today, on World Mental Health Day 2019, I am reflecting on my own mental health.
My story is thus; about five years ago, I began experiencing symptoms of mental ill-health that eventually developed into a full-blown episode of clinical depression. Without sensationalising it, my life ground to a halt for six months. As someone who had taken pride in never sitting still, it's an understatement to say that experiencing this for the first time was a shock to my system.
Gradually however, with the aid of medication(s) and a gradual return to work, I began to improve. During this time of adjustment, I was fixated on 'getting better'; returning to a facsimile of my life and state of mind before this first period of being unwell. Occasionally, I was able to attain this for a brief period; a few hours of enthusiasm here, a day of productivity there, spells of regular sleeping and motivation. But I couldn't make it last.
I treated this inability to sustain 'being better' as a setback – proof that in reality I wasn't 'better' and 'recovery' still eluded me.
I lost faith in medicine as an effective means of treatment, because it didn't put me back to where I was before I became ill. My outlook was that I needed to find something to 'jolt' me back to where I was before my first period of mental ill-health – the fact that I hadn't found this yet was proof that I wasn't doing something right.
After a while, a pattern began to emerge; every few months, I would become unwell for a time – life would again grind to a halt – before stabilising again. I took this as a further sign that my efforts to 'get better' continued to be focused in the wrong direction. With the support of professionals, I re-started taking medication, but remained sceptical because it hadn't worked for me before.
However, this time, it seemed to at least make something of a difference.
Fast forward a few years, and more recently, I've been hearing and learning more about other people's mental health, and what that's involved for them. I've met people who have been seriously unwell for a very long time. I've heard about their despair when they feel shoehorned into a model of 'symptom-free recovery' rather than 'wellbeing.'
Some chronic physical conditions might never fully 'go away,' – why isn't it accepted that the same might be the case with mental illness?
It's only been over the last few months that I've finally been able to get past my obsession with getting to a stage where I'm completely symptom-free. I've learnt to forgive myself for the fact that it might not be possible, at least immediately. My personal mental health difficulties and fluctuations are a part of my own identity. In my case, it's probable that I might need medicine to manage it for a number of years. I've now learnt to see past this as being a personal flaw, it's just who I am. After all, we wouldn't classify it as a character flaw if someone needs to take mineral pills for anaemia.
What is it that I'm trying to say? In recent years, awareness of the importance of mental wellbeing and the different types of mental difficulties that people can experience is fortunately on the rise. World Mental Health Day has been observed for over twenty-five years now, and even in that relatively short time, more campaigns and charities have come alive, dedicated to campaigning and educating on the issue. There's still a long way to go – but it's fair to say that with even basic levels of awareness becoming more prevalent, mental health problems are no longer as much of a taboo.
I now feel comfortable with accepting that my own mental health is a part of my identity, rather than something that I just need to 'get over.' It just so happens that my identity means that occasionally, life is more challenging than normal. I'm working to accept this, rather than battle it as something to be overcome.
October 10, 2019 at 6:02 pm | Uncategorized | No comment
April 5, 2019 at 1:15 pm
The Mental Health Act 1983 ('MHA') is the law in England and Wales that covers a range of matters relating to mental health and crisis care. It sets out assessment and treatment in hospital, routes into care, and rights that a patient is entitled to. Whilst the Act has been updated since introduction (most recently in 2007), the core legislation is now over 35 years old. There is a movement calling for its replacement, due to being outdated or other reasons. One of our volunteers, Ellie, has assembled a summary of the arguments on both sides of the coin; for and against wholesale repeal. 
Arguments for the repeal and replacement of the MHA
Discrimination
One of the strongest criticisms and reasons for the replacement of the Mental Health Act is the discrimination critics argue it has caused. Disproportionate numbers of black people are detained under the Act. In addition, they generally have more difficult experiences once sectioned. It has further been found that this discrimination impacts young black working class men the most. In 2016/17 rates of detention within the defined category 'Black or Black British' was four times of that of those belonging to the White ethnic group. This is furthered when it is identified that the use of Community Treatment Orders (see below) were, for 'Black or Black British' people, nearly 9 times that of White people. This has lead to many critics of the Act calling for it to be repealed and replaced with provisions that combat these racial injustices.
Community Treatment Orders
One of the most controversial parts of the Mental Health Act are Community Treatment Orders (CTOs) which were introduced into the Act in 2008. A CTO is when a patient is allowed to be treated within the community rather than in a hospital, but it must follow certain conditions. If these conditions are not followed the patient can be readmitted to hospital. One criticism of Community Treatment Orders is that it does not provide patients a better quality of life or help their mental health condition. It has been argued that being treated within the community leads to a lower quality of life in terms of the patient's health. This is claimed to be partly due to lower levels of access to resources and support with their health. A further criticism of Community Treatment Orders is that they do not help the patients re-integrate well into the community. It is argued that this is due to the restrictions on the patient's personal freedoms that come from this form of treatment. Another criticism of Community Treatment Orders is that they act as a punishment rather than treatment and protection for the patient. Some critics of this element of the Act refer to CTOs and 'psychiatric ASBOs' and claim that they are used as a replacement for proper care especially for patients with serious conditions such as psychosis. Due to the major problems with CTOs many call for the Mental Health Act to be repealed and replaced in order to solve these major problems by either removing CTOs completely or making major changes to them.
Rising Detention Numbers
One issue that has caused criticism of the Act is the rising detention numbers over the past decade. Between 2005 and 2015 there was a 40% rise in the number of detentions under the Mental Health Act. Whilst there is no one clear reason for detention numbers rising, critics of the Act suggest that this rise in numbers indicates that the Act is failing. In 2007 the Mental Health Act's grounds for someone to be detained were broadened. It is argued that now people with less serious mental health issues that would not have been previously be detained now are. Critics argue that this has eroded the distinction between serious and less serious mental health conditions. This has lead to calls for a new Mental Health Act that has a narrower requirement of who can be detained in order for less serious mental health issues to not warrant detention.
Patient Decision Making
Once detained patients have very little choice in what happens during their treatment. Some critics of the Act argue that despite the patient not having a choice whether to leave or stay in treatment, they still should have some decision-making power over what treatments they receive whilst they are detained.The Mental Health Act as it is gives very little opportunity for any shared decision making as well as enabling doctors to in some cases administer treatments not approved by the patient. Critics argue that treatment would be more effective if the patient has some say in it. A new Mental Health Act could provide patients with more influence over what happens during their treatment as far as is possible. This is only possible if the current Mental Health Act is repealed and replaced as the current Mental Health Act does not see detained people as having capacity to make significant input into decisions over their treatment.
Arguments against the repeal and replacement of the MHA
Patient Protection
One argument against the repeal and replacement of the Act is that its strength in detaining and making some decisions for patients means they are well protected. Some patients in a very serious situation detained under the Mental Health Act are a danger to themselves, and in some cases others. Due to this, supporters argue, the Act's powers need to be far reaching in order to adequately protect and treat patients who are in the most serious circumstances. Whilst patients are detained, doctors must act in their best interests – the Mental Health Act in its current from gives them the power to do so. Supporters of the Act argue that this comprehensive care in the best interests of the patient would not be possible under a weaker replacement of the Act as it would give doctors less power to make decisions for patients and detain people who are in need of care that may be against their wishes.
Nominated Persons
Under the current Act the patient can nominate a person to support them during their treatment. This nominated person will receive information for the patient, help them exercise their rights and help convey the patient's preferences and views. Supporters of the Act see this as important as it means the patient can have someone representing their opinions and rights without the burden being directly on them. This allows the patient to better focus on their treatment. Supporters of the Act as it is currently laid out argue that if patients had more of a direct say in their treatment they may not act in their own interest, so it is important to have someone act on their behalf and relay views on their treatment rather than making the decisions directly themselves. This allows doctors still to be able to make decisions considering the patients wishes but not be completely controlled by them. A new Mental Health Act may change this role, and would not necessarily be beneficial to the patient's treatment.
Recent Reform
Recently the government have committed to reforming elements of the Mental Health Act. This may mean that the whole Act does not need to be repealed and replaced and instead these reforms will address some of the specific problems that critics of the Act identify. One of the key elements of the recommended reform is a greater ability for patients to challenge their detention and challenge their treatment whilst detained as well. This may solve the problems of how much influence patients have in their treatment. It could also be argued that this will go towards reducing detention numbers due to the proposed right to appeal detention more easily. They have also committed to tackling the current racial inequality in detention and believe this can be achieved through changes to how some elements of the Act are carried out in practice rather than through wholesale repeal. This has been promised to be done in part by reducing the numbers of Community Treatment Orders, as these are disproportionally used for black people. In all, some suggest these reforms and changes will solve the problems with the act without the need for it to be repealed.
Further information: the Government-commissioned review, 'Modernising the Mental Health Act – The Independent Review of the Mental Health Act' concluded in December 2018. The first parliamentary debate considering the Independent Review will take place on Thursday 25 July 2019. Rethink Mental Illness are running a campaign to ensure that the debate is as well attended as possible. Click here for more details. 
April 5, 2019 at 1:15 pm | Blog | No comment
March 22, 2019 at 4:51 pm
[This blog post has been written by a member of BIMHN]
Members of BIMHN receive an e-newsletter each month. I have noticed that in recent mailouts, there has been an increase in details of ongoing consultations that are related in some way to mental health; be it to local services or wellbeing in general. These have included surveys seeking views on maternal mental health, feedback on the Young People's strategy for the local council, and details about experiences of local community mental health rehabilitation services.
I had a think about whether filling in these surveys would make any difference to anything in the long run. What are the data from some tickboxes and 'comment' boxes really going to change? What's the point if they don't make a difference?
It then hit me that of course – everyone is different. These surveys and consultations are not just about me and my experiences – they are about the combined views and experiences of people in the local area, and how the combination of these perspectives can give a different insight into people's needs.
Mental health is a broad church – everyone's experience of mental health is different. Everyone has different backgrounds, symptoms, coping strategies, experiences of different treatments…this list could goes on. Even if someone does not experience mental ill-health themselves, they may know someone who does, or have otherwise come into contact with mental health disorders during their lives.
If a mental health service is being introduced or re-designed, the people and teams leading these projects need to be made aware of the populations different perspectives, views, and experiences. Everyone is different, and there are so many variables that make up an individual's personal view that their contribution may include an experience or some other information that may not have been previously considered by those running the consultation.
[Editorial note: one of the consultations mentioned above is the BNSSG Rehabilitation Services Review, that BIMHN is currently helping arrange. You can fill out the relevant survey here)]
March 22, 2019 at 4:51 pm | Blog | No comment
March 4, 2019 at 12:35 pm
[Late last year, The Women's Mental Health Taskforce published their final report. One of our volunteers has written a review of the report, considering the parties involved, their commitments, and how this feeds into the aims of the Taskforce.]
This article focuses on the specific roles taken on by key organisations in the UK's healthcare system to achieve the Taskforce's goal however, the full report can be accessed here.
It has been brought to light from much research that significantly more women experience mental conditions compared to men. McManus and colleagues (2016) found that specifically young women are almost three times more likely to have a common mental disorder compared to young men. This is because poverty and abuse are related many negative outcomes which includes, but is not limited to, suicide. Compared to men (27%), a staggering number of women who have or are experiencing abuse are also in poverty (51%).
In response to this, the government set up the Women's Mental Health Taskforce; co-chaired by Jackie Doyle-Price (Minister for Suicide Prevention and Mental Health) and Katharine Sacks-Jones, Chief Executive of Agenda; with the responsibility to improve mental health services for women based on the lived experience of women themselves. That last part is important, as pointed out by Dr Karen Newbigging (Senior Lecturer at the University of Birmingham); "This reflects the social realities of their lives: women are much more likely than men to be survivors of abuse and domestic violence, to be single parents and to live on a lower income. Traditionally mental health services have overlooked this."
As mentioned by co-chair, Jackie Doyle-Price, "Mental health is a top priority for this Government and will be a key part of the upcoming Long-Term Plan for the NHS"; all eyes are on National Health Service England (NHSE) to make impactful changes that can help women achieve better mental health services. NHSE's commitments include implementing a financial incentive for trauma related care, developing a toolkit for system leaders with regards to individuals facing health inequalities, and considering to broaden NHSE's annual conference to focus on the whole care pathway. Furthermore, NHSE aims to provide access to specialist perinatal mental health services for all new and expectant mothers by April 2019.
Another national body involved is the Public Health England (PHE), which is in charge of gathering public health specialists to improve health and wellbeing. They are committed to expanding work on perinatal mental health; guiding the NHS in promoting the Taskforce's messages; focusing more on gender- and trauma-informed approaches; raising awareness on domestic abuse; and focusing on additional funds towards women's mental health.
The Care Quality Commission (CQC), independent regulator of all health and social care services in England, has specifically worked towards eliminating mixed-sex accommodation on mental health wards. Through their Long-Term Segregation project and Mental Health Safety Improvement Programme (the latter of which is a collaboration with NHS Improvement), the CQC aims to objectively achieve the goals set by the Taskforce. NHS Improvement is also, among many other things, working towards aligning their sexual safety work with the Taskforce's objectives.
The role of Higher Education England is crucial as one of their tasks is to disseminate the outcomes of the Taskforce to employers and education institutions, as well as to review the inclusion of trauma-informed care in curricula with Higher Education Institutes.
The Prison and Probation Service is working with the Ministry of Justice and the Department of Health and Social Care to establish comprehensive care that improves health outcomes and reduces health inequalities amongst prisoners. Among many other efforts, this partnership is working to enhance 'women's pathways' across all services through actions like appointing women to lead work. Other than that, a new service model is being developed to allow mentally affected offenders to receive mental health treatment as an alternative to custody. Furthermore, the women offender personality disorder pathway aims to improve women's public protection and mental wellbeing while addressing their offending behaviour. These efforts will hopefully develop psychologically-informed, gender-informed and trauma-informed interventions.
Bristol as a city can also be seen putting efforts into women's mental health. Bristol City Council is a partner along with thirteen other organisations in a partnership called Healthier Together, that represents the local Sustainability and Transformation Partnership (STP). Two of Healthier Together's priorities are maternity and mental health.
It is evident that many organisations are taking steps forward in paving a safer and mental health friendly world for women in the UK. Authorities should take this as motivation to execute their roles as promised as well as introducing more effective efforts instead of becoming complacent by merely acknowledging all their accomplishments so far.
March 4, 2019 at 12:35 pm | Blog | No comment
February 20, 2019 at 1:24 pm
[This blog was written by a BIMHN member, sharing their thoughts on a stall they ran on Time to Talk Day 2019]
I was delighted to be asked to represent the Time to Change Bristol hub at the University of the West of England's (UWE) Frenchay Campus on Time to Talk Day this year.
Time to Talk Day is the big day in the calendar for Time to Change; a national organisation that leads the way on tackling stigma in mental health. Time to Talk Day takes place annually, and is a day centred around having a conversation with someone. The thinking is that if more people are open about mental health, and issues surrounding it, we can collectively change the way that we all think and act about mental health.
The Time to Change hub were invited to have a stand at UWE's Mental Health and Wellbeing Fair, which took place in their Students' Union building. The fair was busy and saw a lot of footfall; not just students, but university staff as well.
Lots of people came by to have a conversation. Some knew about Time to Change already, and some had no idea. Some people had lived experience of mental health, whether it was their own, or someone else's that they knew. Regardless of a person's experience, it was heartening to hear from those who had received a positive response when they had opened up to others about their own mental health.
Some visitors to the stall wanted to know more. I was happy to share that we had completed some recent training on how to equip people on how to effectively tackle mental health stigma. I was also happy to share the successes of the Champions Fund, and how we can support anyone looking to put on their own mental health social contact event.
It's clear there's still a lot of work to do to make sure that the stigma around mental health, in all its variants, is being tackled in a positive way. It is however positive to hear so many people speaking so openly about their own experience, and that the response they have received is no longer as negative as it might have been in years gone by.
February 20, 2019 at 1:24 pm | Blog | No comment
June 8, 2017 at 6:37 am
[Editorial note: this blog post was published on June 8th 2017, general election polling day. The content listed below may no longer reflect the position of the political parties mentioned]
It's election day, it is finally here!
We aren't going to tell you who to vote for or label you as "wrong" for disagreeing with us but we want to make sure you have the facts about what the main parties are pledging for Mental Health services if elected.
Please note, this information has been put together from articles written by the parties for Mind; SNP and UKIP articles were not published at time of writing
The Conservative Party
To ensure more people are able to access Mental Health Services, if re-elected, the Conservatives will invest £1.4billion in to the sector by 2020 and recruit thousands more MH professionals.
Provide Mental Health training to all new health professionals.
Ensure every primary and secondary school has staff trained in supporting young people with mental health and, for those who need further support, reform CAMHS.
"Rip up the 1983 Mental Health Act" and bring in the new Mental Health Treatment Bill which has parity of esteem at the heart of it.
Improve workplace life for those with mental health conditions.
The Labour Party
Party-wide commitment to improving Mental Health services.
£37 billion investment in to the NHS over the next government, this will not only help fund improved Mental Health services but also ensure the"NHS no longer needs to raid mental health budgets to fill black holes elsewhere".
Mental Health budgets (including CAMHS) will be ring-fenced.
Focus more resources on early intervention.
Ensure all secondary schools have funds available to provide counselling and support to pupils who require additional support for their mental health.
£8 billion over the next 5 years will be invested in to social care to help those receiving help at home.
End the NHS pay freeze and reintroduce training bursaries for nurses.
The Green Party
"The Green Party has a three-pronged approach to tackling the mental health crisis in the UK. We must prevent poor mental health from a young age, help those who are already suffering, and invest properly in both prevention and treatment by ensuring parity of esteem with physical health."
Make changes elsewhere in the system to reduce the impact on the populations Mental Health. suggestions being scrapping zero hours contracts and introducing awareness and empathy training in schools to help change the way young people think about themselves and their peers amongst other things.
Invest in the NHS to improve Mental Health Services.
The Liberal Democrats
Invest £6 billion in to the NHS each year with £1 billion ring-fenced for Mental Health Services.
Implement access and waiting time standards for mental health care in line with other services such as A&E and cancer treatment access.
Make Mental Health education a compulsory aspect of the curriculum.
Provide more funding for schools to provide onsite professional support.
Provide incentives for employers to prioritise employee well-being.
Plaid Cymru
Major investment in Mental Health Services.
Continuing to talk about Mental Health to raise awareness and reduce discrimination.
Increase the number of Mental Health beds available. Plaid recognise that the use of police cells for those in Mental Health crisis is not acceptable.
Fund further research in to treatments so the country can move away from the current "one size fits all" approach.
June 8, 2017 at 6:37 am | Blog | No comment
June 4, 2017 at 9:28 am
We recently stumbled across a blog entitled "Mental Health and Me: What it's like to travel with a mental illness" and thought it was worth a share.
Travelling often comes up as a barrier to involvement in opportunities amongst our members so, when Airport Parking Shop presented the following figures you can see why the team weren't surprised.
When asked "Has your mental health ever stopped you travelling?"
74% of respondents said yes.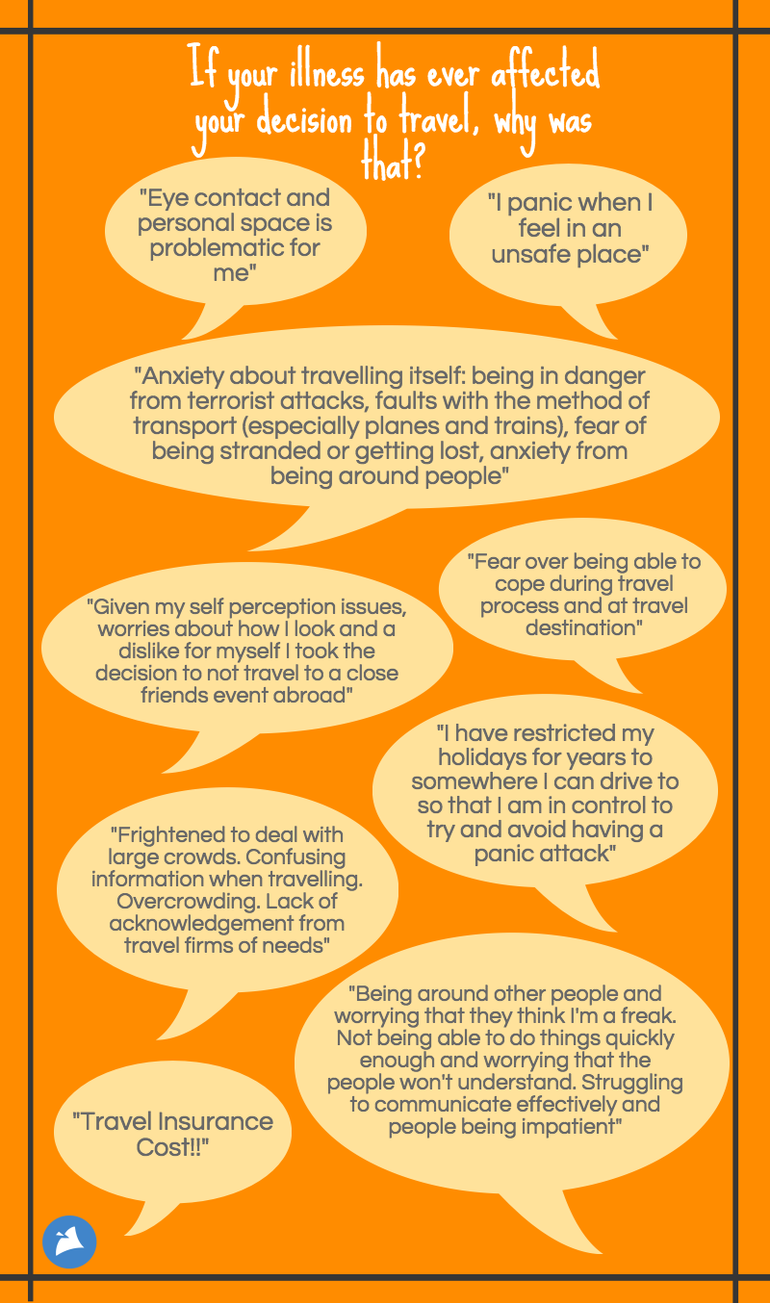 And to "Do you think there is enough support in the tourism industry for those travelling with a mental illness?"
You won't be surprised No was the most given answer.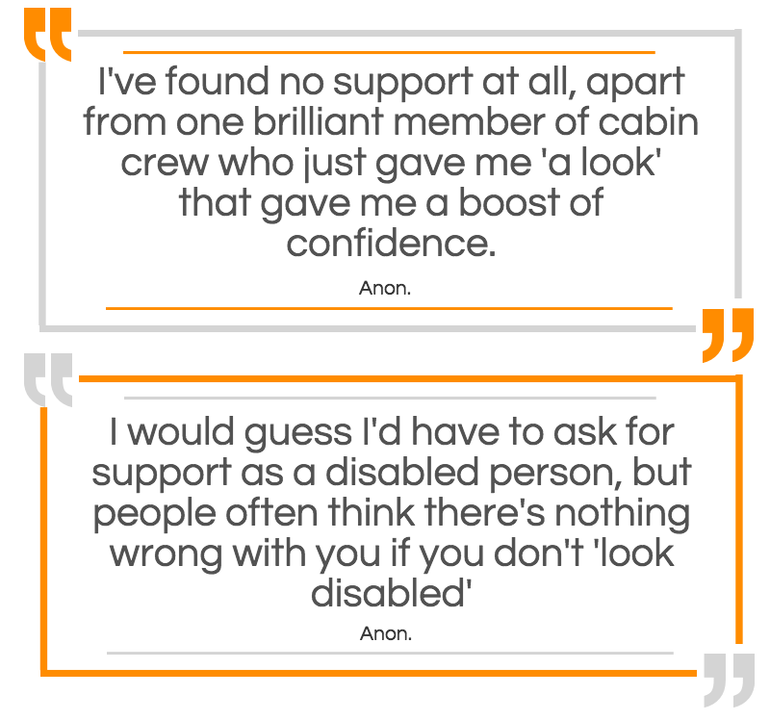 What have your experiences of travelling with mental health issues been?
If you'd like to write your own post about your experiences, e-mail Amelia: bimhn.engagement@gmail.com
Don't forget to check out the full blog here for more information, as well as some really helpful tips!
June 4, 2017 at 9:28 am | Blog | No comment
May 21, 2017 at 12:58 pm
This blog was originally written by a BIMHN member and shared on their blog.
I remember the first time I climbed the highest mountain in South Wales, I got to the top, refused to move and had a bit of a cry as I didn't want to carry on to the next hill as it looked 'too scary' fast forward 6 years and I was winter climbing the north face of that same mountain!
I started going outdoors from a young age, enjoying hill walking with my parents and walking with the Guides. As I got older I became obsessed by music and going outdoors took a bit of a back seat. When my daughter was born I was isolated and alone. I was a young parent with poor social skills, I found being with other parents unbearable and was probably what I now recognise as quite depressed at times. As she got a little older and started to spend her weekends with her Dad I found myself with time on my hands, I began to organise walks for a small group of friends, somehow walking was socially easier, conversation about what was around us came more naturally, there was no great focus on me- I didn't need to look people in the eye and there was no pressure to talk. We followed a walking guide book initially and I got everyone quite lost at times! I soon started to purchase maps and plan my own walks, although I am still not great at navigation I am a lot better than I used to be.
I am an anxious hill walker. I worry about getting lost, about my daughter falling, about being far from help, I've always been terrified of exposure. There have been some walks in the mountains where the levels of anxiety has been too much and I've had to turn around, but where I have been able to battle through I've felt so much better for it. The hills are my quiet space, my safe place, a place to discover and learn. We've seen some incredible things in the hills from historic ruins, to rare wildlife and things created by weather such as ice formations.
I've lost count of how many bogs I've fallen into, how many times we've been beaten back by the weather, times where we have under estimated our route and marched for hours in the dark (with our head torches), time spent wandering round in Scottish forestry wondering why it doesn't match what's on the map. We've had a few scary experiences, once where I had to abort a walk due to the beginnings of hypothermia – we dropped down off the mountain into the wrong valley on purpose to get out of strong winds and had a really long walk back to the car, once I'd warmed up enough in a ruined building to continue. Other occasions the weather has turned on us, which can feel pretty frightening in the winter. The bad times build memories though, they strengthen me mentally, they keep me fighting another day. We've helped others when we've been hiking, on two occasions returning lost children to their parents, giving lost people directions, returning lost items to their owners and even rescuing a chicken and a dog – my daughter loves to recount the stories of those particular adventures!
I enjoy the spontaneity of being able to read a map and to walk off path to go and explore something which looks interesting- I've had many outdoor swims in the mountains and have also camped there too. One of my favorite 'dips' was on Snowdon- we walked up it on a really hot day, starting quite late in the day to go up the Watkin Path, we came down the South Ridge and went back over another smaller mountain (Yr Aran) to pick up the Watkin Path again to take us back down. The Watkin path has a river running beside it and although we'd forgotten our swimming stuff the temptation on a boiling hot evening was too great. On the busiest mountain in Wales we stripped off and jumped into the icy pools, that memory of pure exhilaration will always stay with me. That's what mountains are about, surprises, adventure and building memories for those bad times when the dark thoughts get the better of you.
I'll end this blog with a photo from my my best days walking – the snow was crisp, it was bitterly cold (-10, back when we had actual winters) The sky was blue all day long and we felt so lucky to be out in the hills.
May 21, 2017 at 12:58 pm | Blog | No comment
May 3, 2017 at 7:34 pm
This year, the Mental Health Awareness Week theme is Surviving or Thriving and across Bristol, the focus is on the Five Ways to Wellbeing. Organisations across Bristol are running events between the 8th and 12th for Five Days to Wellbeing with each day having it's own theme.
Connect     Be Active     Take Notice     Keep Learning     Give
Here Amelia, BIMHN's Membership Engagement Officer, shares what she will be doing for the Five Days to Wellbeing.
Monday – Connect
Hands up who spends too much time staring at a screen…*raises hand nervously*. Thought so, I'm not the only one! On Monday, I'm going to stay away from the screen, ditch social media and go talk to people instead of messaging or e-mailing them. There is so much research highlighting the negative effects of technology so a "digital detox" is probably what I need! (Followers – no pressure but you need to make sure I do this!)
Tuesday – Be Active
I am one of those sheep who own a FitBit (other fitness trackers are available!) and one of my favourite features is that you can host competitions with friends. For "Be Active" day, I'm going to host a competition, smash my goals/beat my friends. (Head over to Bristol Walk Fest for walking based events.)
Wednesday – Take Notice
I try to practice mindfulness regularly, I realise this isn't for everyone but it is something that works for me. On Wednesday, weather permitting, I am planning on going to the park by my office to meditate and take notice of what is going on in my head whilst being surrounded by nature. You can find out more about mindfulness over at NHS Choices.
Thursday – Keep Learning
I love learning! I'm always looking for new opportunities to develop my skills and knowledge. Last year I discovered the amazing range of free online courses the Open University offers. I've been feeling a little too busy to get round to finishing a sociology course titled "Problem Populations, Problem Places" I started last month so next Thursday, I'm going to get it done!
Friday/Saturday – Give
Ok, so I'm doing this on Saturday instead of Friday but I'm attending a charity pampering event in Cardiff raising funds for the Samye Foundation – it's an organisation which has supported a very close friend and helped her through some really tough times. I'm pretty excited to get a some self care time with her…and meet her new puppy! (You can find a blogpost she wrote about how Samye helped her overcome her anxiety here)
There are loads of events taking place across Bristol between the 8-12 May, you can find all the information here.
May 3, 2017 at 7:34 pm | Blog | No comment