March 22, 2019 at 4:51 pm
[This blog post has been written by a member of BIMHN]
Members of BIMHN receive an e-newsletter each month. I have noticed that in recent mailouts, there has been an increase in details of ongoing consultations that are related in some way to mental health; be it to local services or wellbeing in general. These have included surveys seeking views on maternal mental health, feedback on the Young People's strategy for the local council, and details about experiences of local community mental health rehabilitation services.
I had a think about whether filling in these surveys would make any difference to anything in the long run. What are the data from some tickboxes and 'comment' boxes really going to change? What's the point if they don't make a difference?
It then hit me that of course – everyone is different. These surveys and consultations are not just about me and my experiences – they are about the combined views and experiences of people in the local area, and how the combination of these perspectives can give a different insight into people's needs.
Mental health is a broad church – everyone's experience of mental health is different. Everyone has different backgrounds, symptoms, coping strategies, experiences of different treatments…this list could goes on. Even if someone does not experience mental ill-health themselves, they may know someone who does, or have otherwise come into contact with mental health disorders during their lives.
If a mental health service is being introduced or re-designed, the people and teams leading these projects need to be made aware of the populations different perspectives, views, and experiences. Everyone is different, and there are so many variables that make up an individual's personal view that their contribution may include an experience or some other information that may not have been previously considered by those running the consultation.
[Editorial note: one of the consultations mentioned above is the BNSSG Rehabilitation Services Review, that BIMHN is currently helping arrange. You can fill out the relevant survey here)]
March 22, 2019 at 4:51 pm | Blog | No comment
March 4, 2019 at 12:35 pm
[Late last year, The Women's Mental Health Taskforce published their final report. One of our volunteers has written a review of the report, considering the parties involved, their commitments, and how this feeds into the aims of the Taskforce.]
This article focuses on the specific roles taken on by key organisations in the UK's healthcare system to achieve the Taskforce's goal however, the full report can be accessed here.
It has been brought to light from much research that significantly more women experience mental conditions compared to men. McManus and colleagues (2016) found that specifically young women are almost three times more likely to have a common mental disorder compared to young men. This is because poverty and abuse are related many negative outcomes which includes, but is not limited to, suicide. Compared to men (27%), a staggering number of women who have or are experiencing abuse are also in poverty (51%).
In response to this, the government set up the Women's Mental Health Taskforce; co-chaired by Jackie Doyle-Price (Minister for Suicide Prevention and Mental Health) and Katharine Sacks-Jones, Chief Executive of Agenda; with the responsibility to improve mental health services for women based on the lived experience of women themselves. That last part is important, as pointed out by Dr Karen Newbigging (Senior Lecturer at the University of Birmingham); "This reflects the social realities of their lives: women are much more likely than men to be survivors of abuse and domestic violence, to be single parents and to live on a lower income. Traditionally mental health services have overlooked this."
As mentioned by co-chair, Jackie Doyle-Price, "Mental health is a top priority for this Government and will be a key part of the upcoming Long-Term Plan for the NHS"; all eyes are on National Health Service England (NHSE) to make impactful changes that can help women achieve better mental health services. NHSE's commitments include implementing a financial incentive for trauma related care, developing a toolkit for system leaders with regards to individuals facing health inequalities, and considering to broaden NHSE's annual conference to focus on the whole care pathway. Furthermore, NHSE aims to provide access to specialist perinatal mental health services for all new and expectant mothers by April 2019.
Another national body involved is the Public Health England (PHE), which is in charge of gathering public health specialists to improve health and wellbeing. They are committed to expanding work on perinatal mental health; guiding the NHS in promoting the Taskforce's messages; focusing more on gender- and trauma-informed approaches; raising awareness on domestic abuse; and focusing on additional funds towards women's mental health.
The Care Quality Commission (CQC), independent regulator of all health and social care services in England, has specifically worked towards eliminating mixed-sex accommodation on mental health wards. Through their Long-Term Segregation project and Mental Health Safety Improvement Programme (the latter of which is a collaboration with NHS Improvement), the CQC aims to objectively achieve the goals set by the Taskforce. NHS Improvement is also, among many other things, working towards aligning their sexual safety work with the Taskforce's objectives.
The role of Higher Education England is crucial as one of their tasks is to disseminate the outcomes of the Taskforce to employers and education institutions, as well as to review the inclusion of trauma-informed care in curricula with Higher Education Institutes.
The Prison and Probation Service is working with the Ministry of Justice and the Department of Health and Social Care to establish comprehensive care that improves health outcomes and reduces health inequalities amongst prisoners. Among many other efforts, this partnership is working to enhance 'women's pathways' across all services through actions like appointing women to lead work. Other than that, a new service model is being developed to allow mentally affected offenders to receive mental health treatment as an alternative to custody. Furthermore, the women offender personality disorder pathway aims to improve women's public protection and mental wellbeing while addressing their offending behaviour. These efforts will hopefully develop psychologically-informed, gender-informed and trauma-informed interventions.
Bristol as a city can also be seen putting efforts into women's mental health. Bristol City Council is a partner along with thirteen other organisations in a partnership called Healthier Together, that represents the local Sustainability and Transformation Partnership (STP). Two of Healthier Together's priorities are maternity and mental health.
It is evident that many organisations are taking steps forward in paving a safer and mental health friendly world for women in the UK. Authorities should take this as motivation to execute their roles as promised as well as introducing more effective efforts instead of becoming complacent by merely acknowledging all their accomplishments so far.
March 4, 2019 at 12:35 pm | Blog | No comment
February 20, 2019 at 1:24 pm
[This blog was written by a BIMHN member, sharing their thoughts on a stall they ran on Time to Talk Day 2019]
I was delighted to be asked to represent the Time to Change Bristol hub at the University of the West of England's (UWE) Frenchay Campus on Time to Talk Day this year.
Time to Talk Day is the big day in the calendar for Time to Change; a national organisation that leads the way on tackling stigma in mental health. Time to Talk Day takes place annually, and is a day centred around having a conversation with someone. The thinking is that if more people are open about mental health, and issues surrounding it, we can collectively change the way that we all think and act about mental health.
The Time to Change hub were invited to have a stand at UWE's Mental Health and Wellbeing Fair, which took place in their Students' Union building. The fair was busy and saw a lot of footfall; not just students, but university staff as well.
Lots of people came by to have a conversation. Some knew about Time to Change already, and some had no idea. Some people had lived experience of mental health, whether it was their own, or someone else's that they knew. Regardless of a person's experience, it was heartening to hear from those who had received a positive response when they had opened up to others about their own mental health.
Some visitors to the stall wanted to know more. I was happy to share that we had completed some recent training on how to equip people on how to effectively tackle mental health stigma. I was also happy to share the successes of the Champions Fund, and how we can support anyone looking to put on their own mental health social contact event.
It's clear there's still a lot of work to do to make sure that the stigma around mental health, in all its variants, is being tackled in a positive way. It is however positive to hear so many people speaking so openly about their own experience, and that the response they have received is no longer as negative as it might have been in years gone by.
February 20, 2019 at 1:24 pm | Blog | No comment
June 8, 2017 at 6:37 am
[Editorial note: this blog post was published on June 8th 2017, general election polling day. The content listed below may no longer reflect the position of the political parties mentioned]
It's election day, it is finally here!
We aren't going to tell you who to vote for or label you as "wrong" for disagreeing with us but we want to make sure you have the facts about what the main parties are pledging for Mental Health services if elected.
Please note, this information has been put together from articles written by the parties for Mind; SNP and UKIP articles were not published at time of writing
The Conservative Party
To ensure more people are able to access Mental Health Services, if re-elected, the Conservatives will invest £1.4billion in to the sector by 2020 and recruit thousands more MH professionals.
Provide Mental Health training to all new health professionals.
Ensure every primary and secondary school has staff trained in supporting young people with mental health and, for those who need further support, reform CAMHS.
"Rip up the 1983 Mental Health Act" and bring in the new Mental Health Treatment Bill which has parity of esteem at the heart of it.
Improve workplace life for those with mental health conditions.
The Labour Party
Party-wide commitment to improving Mental Health services.
£37 billion investment in to the NHS over the next government, this will not only help fund improved Mental Health services but also ensure the"NHS no longer needs to raid mental health budgets to fill black holes elsewhere".
Mental Health budgets (including CAMHS) will be ring-fenced.
Focus more resources on early intervention.
Ensure all secondary schools have funds available to provide counselling and support to pupils who require additional support for their mental health.
£8 billion over the next 5 years will be invested in to social care to help those receiving help at home.
End the NHS pay freeze and reintroduce training bursaries for nurses.
The Green Party
"The Green Party has a three-pronged approach to tackling the mental health crisis in the UK. We must prevent poor mental health from a young age, help those who are already suffering, and invest properly in both prevention and treatment by ensuring parity of esteem with physical health."
Make changes elsewhere in the system to reduce the impact on the populations Mental Health. suggestions being scrapping zero hours contracts and introducing awareness and empathy training in schools to help change the way young people think about themselves and their peers amongst other things.
Invest in the NHS to improve Mental Health Services.
The Liberal Democrats
Invest £6 billion in to the NHS each year with £1 billion ring-fenced for Mental Health Services.
Implement access and waiting time standards for mental health care in line with other services such as A&E and cancer treatment access.
Make Mental Health education a compulsory aspect of the curriculum.
Provide more funding for schools to provide onsite professional support.
Provide incentives for employers to prioritise employee well-being.
Plaid Cymru
Major investment in Mental Health Services.
Continuing to talk about Mental Health to raise awareness and reduce discrimination.
Increase the number of Mental Health beds available. Plaid recognise that the use of police cells for those in Mental Health crisis is not acceptable.
Fund further research in to treatments so the country can move away from the current "one size fits all" approach.
June 8, 2017 at 6:37 am | Blog | No comment
June 4, 2017 at 9:28 am
We recently stumbled across a blog entitled "Mental Health and Me: What it's like to travel with a mental illness" and thought it was worth a share.
Travelling often comes up as a barrier to involvement in opportunities amongst our members so, when Airport Parking Shop presented the following figures you can see why the team weren't surprised.
When asked "Has your mental health ever stopped you travelling?"
74% of respondents said yes.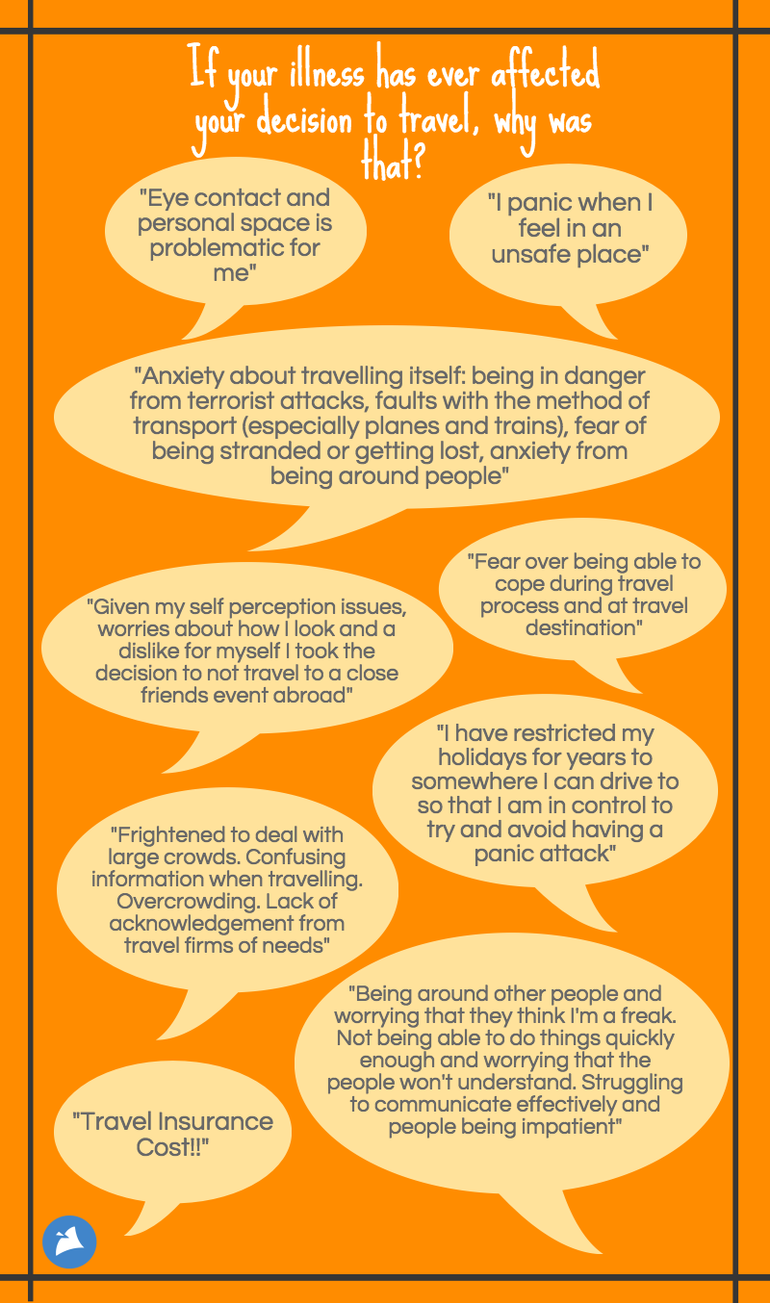 And to "Do you think there is enough support in the tourism industry for those travelling with a mental illness?"
You won't be surprised No was the most given answer.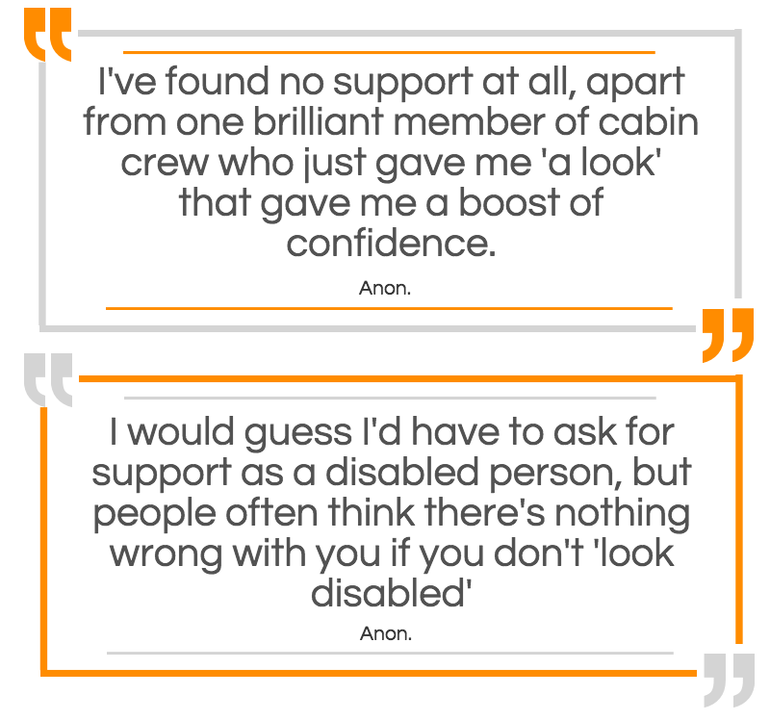 What have your experiences of travelling with mental health issues been?
If you'd like to write your own post about your experiences, e-mail Amelia: bimhn.engagement@gmail.com
Don't forget to check out the full blog here for more information, as well as some really helpful tips!
June 4, 2017 at 9:28 am | Blog | No comment
May 21, 2017 at 12:58 pm
This blog was originally written by a BIMHN member and shared on their blog.
I remember the first time I climbed the highest mountain in South Wales, I got to the top, refused to move and had a bit of a cry as I didn't want to carry on to the next hill as it looked 'too scary' fast forward 6 years and I was winter climbing the north face of that same mountain!
I started going outdoors from a young age, enjoying hill walking with my parents and walking with the Guides. As I got older I became obsessed by music and going outdoors took a bit of a back seat. When my daughter was born I was isolated and alone. I was a young parent with poor social skills, I found being with other parents unbearable and was probably what I now recognise as quite depressed at times. As she got a little older and started to spend her weekends with her Dad I found myself with time on my hands, I began to organise walks for a small group of friends, somehow walking was socially easier, conversation about what was around us came more naturally, there was no great focus on me- I didn't need to look people in the eye and there was no pressure to talk. We followed a walking guide book initially and I got everyone quite lost at times! I soon started to purchase maps and plan my own walks, although I am still not great at navigation I am a lot better than I used to be.
I am an anxious hill walker. I worry about getting lost, about my daughter falling, about being far from help, I've always been terrified of exposure. There have been some walks in the mountains where the levels of anxiety has been too much and I've had to turn around, but where I have been able to battle through I've felt so much better for it. The hills are my quiet space, my safe place, a place to discover and learn. We've seen some incredible things in the hills from historic ruins, to rare wildlife and things created by weather such as ice formations.
I've lost count of how many bogs I've fallen into, how many times we've been beaten back by the weather, times where we have under estimated our route and marched for hours in the dark (with our head torches), time spent wandering round in Scottish forestry wondering why it doesn't match what's on the map. We've had a few scary experiences, once where I had to abort a walk due to the beginnings of hypothermia – we dropped down off the mountain into the wrong valley on purpose to get out of strong winds and had a really long walk back to the car, once I'd warmed up enough in a ruined building to continue. Other occasions the weather has turned on us, which can feel pretty frightening in the winter. The bad times build memories though, they strengthen me mentally, they keep me fighting another day. We've helped others when we've been hiking, on two occasions returning lost children to their parents, giving lost people directions, returning lost items to their owners and even rescuing a chicken and a dog – my daughter loves to recount the stories of those particular adventures!
I enjoy the spontaneity of being able to read a map and to walk off path to go and explore something which looks interesting- I've had many outdoor swims in the mountains and have also camped there too. One of my favorite 'dips' was on Snowdon- we walked up it on a really hot day, starting quite late in the day to go up the Watkin Path, we came down the South Ridge and went back over another smaller mountain (Yr Aran) to pick up the Watkin Path again to take us back down. The Watkin path has a river running beside it and although we'd forgotten our swimming stuff the temptation on a boiling hot evening was too great. On the busiest mountain in Wales we stripped off and jumped into the icy pools, that memory of pure exhilaration will always stay with me. That's what mountains are about, surprises, adventure and building memories for those bad times when the dark thoughts get the better of you.
I'll end this blog with a photo from my my best days walking – the snow was crisp, it was bitterly cold (-10, back when we had actual winters) The sky was blue all day long and we felt so lucky to be out in the hills.
May 21, 2017 at 12:58 pm | Blog | No comment
May 3, 2017 at 7:34 pm
This year, the Mental Health Awareness Week theme is Surviving or Thriving and across Bristol, the focus is on the Five Ways to Wellbeing. Organisations across Bristol are running events between the 8th and 12th for Five Days to Wellbeing with each day having it's own theme.
Connect     Be Active     Take Notice     Keep Learning     Give
Here Amelia, BIMHN's Membership Engagement Officer, shares what she will be doing for the Five Days to Wellbeing.
Monday – Connect
Hands up who spends too much time staring at a screen…*raises hand nervously*. Thought so, I'm not the only one! On Monday, I'm going to stay away from the screen, ditch social media and go talk to people instead of messaging or e-mailing them. There is so much research highlighting the negative effects of technology so a "digital detox" is probably what I need! (Followers – no pressure but you need to make sure I do this!)
Tuesday – Be Active
I am one of those sheep who own a FitBit (other fitness trackers are available!) and one of my favourite features is that you can host competitions with friends. For "Be Active" day, I'm going to host a competition, smash my goals/beat my friends. (Head over to Bristol Walk Fest for walking based events.)
Wednesday – Take Notice
I try to practice mindfulness regularly, I realise this isn't for everyone but it is something that works for me. On Wednesday, weather permitting, I am planning on going to the park by my office to meditate and take notice of what is going on in my head whilst being surrounded by nature. You can find out more about mindfulness over at NHS Choices.
Thursday – Keep Learning
I love learning! I'm always looking for new opportunities to develop my skills and knowledge. Last year I discovered the amazing range of free online courses the Open University offers. I've been feeling a little too busy to get round to finishing a sociology course titled "Problem Populations, Problem Places" I started last month so next Thursday, I'm going to get it done!
Friday/Saturday – Give
Ok, so I'm doing this on Saturday instead of Friday but I'm attending a charity pampering event in Cardiff raising funds for the Samye Foundation – it's an organisation which has supported a very close friend and helped her through some really tough times. I'm pretty excited to get a some self care time with her…and meet her new puppy! (You can find a blogpost she wrote about how Samye helped her overcome her anxiety here)
There are loads of events taking place across Bristol between the 8-12 May, you can find all the information here.
May 3, 2017 at 7:34 pm | Blog | No comment
April 21, 2016 at 1:15 pm
As part of Depression Awareness Week, BIMHN's membership engagement officer Becky writes about how she has used exercise to help manage her mental health. Here is what she has to say…
It was early autumn 2014 when I decided to go out for a casual jog around my local park. Apart from the occasional sweaty five-minute burst on the treadmill, this was the first time I'd attempted to run in quite a few years. Twenty minutes pounding my local streets culminated in me curled up in bed, with a flannel on my forehead, feeling a bit queasy and vowing to never run again.
But I did. A few weeks later, my boyfriend had persuaded me to go along to the Ashton Gate parkrun in South Bristol. Again, feelings of nausea came back to haunt me as I dragged my sorry, red-faced self across the finish line. It had taken me so long to get around the hilly course that my boyfriend (who received a serious dose of silent treatment upon my return!) thought I'd got lost along the way. But amid the humiliation, exhaustion and sore knees, I also noticed something much deeper within – a profound feeling of fulfilment and accomplishment. I realised running made me happy, and the more I did it, the better I felt.
From that moment on, I have used running as a way to manage my depression, which I was diagnosed with six years ago. Before taking up running, my depression had got a point where I was plagued with constant tiredness, zero motivation, and sinking feelings of guilt and self-loathing. Life felt like it was continuously overwhelming, and I lacked any desire to socialise. But running has helped towards minimising those 'bad days' – I am now sleeping better, I am seeing friends more regularly and I am better managing overwhelming thoughts and feelings. For me, running is mindfulness. As soon as I put on my trainers and step out the door, my focus becomes on the wind brushing against my face, my feet navigating the ground and my heart pounding in my chest. It's my escapism and I love it.
I have even been coaxed into several races over the last year – including the Greater Manchester Marathon. It was no easy feat, I tell you! There were tears, laughter, substantial amounts of pain, and maybe even some projectile vomiting (I blame the energy gels!). But 26 miles offered a good few hours of contemplation, and towards the end – with the finish line in sight – I couldn't help but think of the run as a reflection of my journey with mental illness, each mile representing the years of my life (I'm now 26).
I started out well, remaining focused and strong, despite various aches and pains along the way, and then at mile 20 – the age I was when depression struck – I hit the proverbial wall. The following four miles were hellish. I thought the race was never going to end, as I scrambled through country roads with the sun beating ferociously down on my head. Retreating to the roadside and giving up seemed much more appealing than carrying on. But before I knew it, I was passing the 24-mile marker with a renewed sense of energy and hope – the end was near! Clocking the finishing line in the distance was like seeing the light at the end of the tunnel – me finally making sense of my depression and mastering ways to best manage my mood.
I'd like to say that crossing the finish line marked the end of my depression, but that would be wishful thinking. Instead, I look at it as marking the start of a new chapter, where I am the one now taking control, not the depression. Running has changed my life – it has strengthened my mind and body in inconceivable ways – and I'm so glad that I gave it a go.
April 21, 2016 at 1:15 pm | Blog | No comment
February 3, 2016 at 10:19 pm
Losing a loved one can have a huge impact on our mental health. One of BIMHN's members shares their experience, and how having conversations helped them cope with their loss…
I'm 22. I have lost four grandparents, three great aunts and uncles, three hamsters, two dogs, a guinea pig – and my little sister. She was only 20 months old when she passed away – hugging her lifeless body and burying her a week later is something I wouldn't wish on my worst enemy. That was just over 13 years ago.
It's weird because I remember how excited and happy I was when I found out I was having a little sister, it was something I had waited years for. The 20 months I had with her were the happiest of my life but they were also the calm before the storm – the storm being the deterioration of my mental health.
It's common to not cope very well after the loss of a close family member and there are many theories outlining the stages a person will go through during grief. My personal favourite being the Kübler-Ross model, which consists of five stages and has been applied to several other types of grief such as divorce, break-up and just before an individual accepts that they have a substance misuse problem. The five stages are:
Denial: The first reaction is denial. In this stage individuals believe the diagnosis is somehow mistaken, and cling to a false, preferable reality.
Anger: When the individual recognises that denial cannot continue, they become frustrated, especially at proximate individuals.
Bargaining: The third stage involves the hope that the individual can avoid a cause of grief. Usually, the negotiation for an extended life is made in exchange for a reformed lifestyle. People facing less serious trauma can bargain or seek compromise.
Depression: During the fourth stage, the individual becomes saddened by the mathematical probability of death. In this state, the individual may become silent, refuse visitors and spend much of the time mournful and sullen.
Acceptance: In this last stage, individuals embrace mortality or inevitable future, or that of a loved one, or other tragic event. People dying may precede the survivors in this state, which typically comes with a calm, retrospective view for the individual, and a stable condition of emotions.
There are obviously going to be criticisms of theories like this because grief is not a one-size-fits-all experience and different people go through the grieving process in different orders with some never going past a certain stage (these problems are factored in to the model).
I feel terrible admitting this, but I've coped fine – after the initial shock and sadness – with losing all of my family members (and pets), except for my sister. There are many reasons why this may be from self-blame to the fact she was so young and it was too early to say goodbye, especially as it seemed like she was getting better and stronger. After a few years of bottling things up and having a minor breakdown, I gave in and started seeing my first counsellor. I hated her. She was the first of many (OK, so like, nine?) and she was definitely the worst. She was far too forceful and strict with schedules, and progress was seen as targets with dates and time frames … grief is not something anyone should have to put a deadline of learning to cope!
I've now finally realised that I need to listen to people when they say I need to not keep things internalised. It probably should have been one of the first things I learned but, well, I guess I didn't want to. Hindsight is a wonderful thing.
Others of you may disagree with me here, but out of everything I have learned the five most important things have been:
Remember you are not alone. Even when you feel like no one wants to hear that you are struggling or that you don't know what to do right now, people are there for you. From my experience, they are often scared to talk to you about how you're feeling in case you don't want to talk and get frustrated or resent them for it. It's a bit of a vicious circle really.
Crying is ok. Maybe not as much as I cry, but crying is ok, whatever your age or gender. Society tries to tell us that men aren't allowed to cry or show emotion. I don't think it is possible to put in to words how much this stereotype angers me!
Not crying is also ok. For the first few years after my sister's death, I didn't really accept it had happened, I just got on with life and helped everyone else in my family through this tough time. I cried at first but then that was it for about three years (in which time I only cried over fairly insignificant things like when I broke my wrist and was told I wasn't allowed to be in goal in hockey), something I know everyone who I've become friends with over the last few years would struggle to believe!
Don't rush. Like I mentioned before, grief doesn't have a time frame. Don't let anyone tell you that you need to "get over it" or to "hurry up". Some people will learn to cope with grief a lot faster than others, some people need a few months, others decades and everything else in between so don't worry, you aren't weird or damaged!
There is help out there. If you don't feel ready to talk to friends or family or would like some outsider's support there are so many options out there! Face to face counselling has worked pretty well for me but I know this isn't for everyone. There's a huge variety of specialist websites now too, online counselling and peer support groups (online and in real life).
Don't feel like you need to break the bond. So, to some, possibly many of you this will sound weird but I wrote letters to my sister several times a month for about two years and still have a toy of hers nearby (this is me admitting this because no one knows I actually have it … oops). This was probably the only good advice my first counsellor gave me, but also it doesn't have to be anything as time consuming as letter writing. I still do it occasionally but now, I keep her close by having a photo us and my brothers as my lock screen on my phone and iPad.
I'd like to just reiterate that this is not professional advice, just a few tips I've picked up along my journey. It would be great to hear from others on their experiences and helpful tips in getting through these tough times.
Here are some sites which I've found useful:
February 3, 2016 at 10:19 pm | Blog | No comment
January 18, 2016 at 9:39 am
Seasonal affective disorder (SAD) – or more commonly known as the "winter blues" – affects around two million people a year in the UK. It's no surprise when the days become shorter, nights appear darker, and the weather gets much colder. So, to help us through this often dreaded time of year, BIMHN has come up with five ways to help lift spirits and beat those troublesome winter blues.
1. Stay organised
Large amounts of stress and anxiety can be caused when things start piling on top of us. So, by keeping organised, we can attempt to alleviate any of this unnecessary strain on our lives. If you're balancing a number of different jobs or have various tasks building up, we'd recommend creating a timetable of your week. Allocate days and time slots to certain jobs – this allows you to focus on one task at a time, and helps banish any feelings of work overload. Keep track of any plans you make in a trusty diary and for those busy days, make a 'to do list' – there's nothing more satisfying than ticking off those dreaded tasks!
2. Allow yourself to have 'off' days
We can often give ourselves a hard time for having bad days, and not being able to get out of bed at a reasonable hour. "I shouldn't be feeling like this" or "Why can't I just feel normal?" can be some of the troubling thoughts running through our minds. But what if we were just to accept that it's a bad day, and allow ourselves to feel 'off'ish? Laze on the sofa, put on a cheery film, eat comfort food – it is okay to feel this way, and the feeling WILL pass!
3. Keep in touch with friends and family
As studies indicate, maintaining good social connections with friends and family can reap many benefits for mental health. Keeping in touch with friends and family reduces feelings of loneliness and isolation, and helps lift mood. Call a family member you haven't spoken to in a while, or invite a friend over for a cup of tea – these gestures (no matter how small or large) can help you feel a whole lot better about yourself, and do wonders for your self-esteem.
4. Don't expect too much from yourself
As human beings, we tend to put a lot of pressure on ourselves, whether it's in our work or social lives. We constantly expect ourselves to be performing at our best – at ALL times! Pressure is particularly high after Christmas, when we feel that we have to adhere to 'New Year, New You'. But when we don't live up to the sky-high standards we have set, it can leave us feeling disappointed and judging ourselves harshly, which certainly does no favours for our mental health! Try to lower your expectations, and anything positive that comes your way will be a pleasant and lovely surprise.
5. Do something, every day, for YOU
When life gets hectic, we often forget about someone very important… ourselves! Put some time aside each day – whether it's just a few minutes, or a couple of hours – to focus on that number one person in your life. Run yourself a bath, cook a healthy dinner, do some exercise, read a book, meditate – all of these things have nourishing qualities… It will be like giving yourself that nice, big hug you truly deserve!
January 18, 2016 at 9:39 am | Blog | No comment